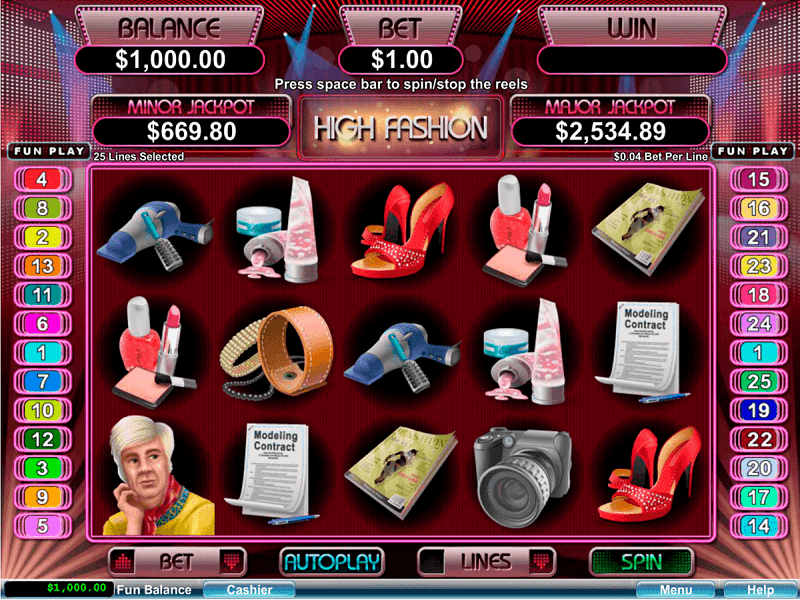 High Fashion Overview
Many do wonder what happens behind the fashion show scenes. Those falling under this category should try out High Fashion in the UK. The glamorous slot is well crafted by RTG, a gaming powerhouse. Famous designers and beautiful models are featured in the casino with plenty of prizes for all.  As expected, beauty-enhancing products form a huge chunk of the symbols. Hairdryers, designer shoes, lipsticks, and cameras take most of the space. The bonus comes in plenty of servings, while there are minor and major progressive jackpots. Everything truly does match up to the beauty standards, with a pinch of adventure.
Stashing the Prizes Closet
Primarily, the player will be in charge of restoring sanity to the backstage. Everything is usually fast-paced as designers and models seek to enact last minute changes. Changes that could mean a win or not. Consequently, putting designer Ralph Lauren in his rightful place earns 1250 coins in a winning combo. Other rightly placed items earn some coins too, 250, 150, and 100 coins for the camera, Jimmy Choo shoes, and lipsticks respectively.
In the heat of pressure, the models can be loud and messy. No need to sulk though, for their wild nature could help in putting other symbols out of their way. However, that only happens if they appear on reel 1 or 5. Should they appear synchronously the model feature gets triggered, earning 5 free games? In case the models appear on all 5 reels, 100x applies to money wagered.
Out We Go
It is time to head to online casinos now and experience things first hand. Simple tricks such as coin amount wagered per payline, go a long way in attracting constant game wins. However, the RTP should not fool players into making blind moves and betting without considering all factors.