Holmes And The Stolen Stones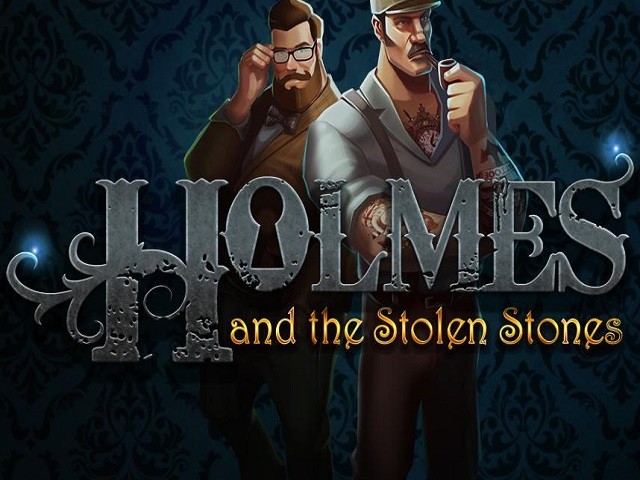 Holmes And The Stolen Stones Overview
Holmes and the Stolen Stones is a slot machine game that should be the right choice for all criminalists and Fans of appropriate novels and series. In the background, a music plays; which it understands to build tension. The player is; just like Sherlock Holmes; in search of gems. The presentation is very chic; the background shows an old manor house. The player will also be pleased with high-value and to be played Jackpots.
In the symbolism two people are first encountered.
With cap; a fairly wide torso; Moustache and whistle in the mouth Sherlock Holmes joins this game. The second man; who, with his full beard, looks like a scholar of glasses and brown hair; surely shall be Dr. Watson. Furthermore, a locked book and a magnifying glass with broken glass can be found in this slot machine.Instead of the traditional card game symbols, the colors were chosen.
Spades; hearts; diamonds and crosses are on board with their respective Symbol and a matching color that is different from the others. As special symbols, there are precious stones; which can release the Jackpot. This image shows a Golden castle.
The Bonus round is opened with the metal lock, and with the smoke bomb ends.So it's played!The machine can compete on presentation to any mercury game.
But here too the same symbols for a payout must be strung up. The longer the row; the higher the win will be depending on the equivalent.
It is important to make sure that exactly 20 winning rows are available; all of them run from left to right. Gaps; before a valid combination is achieved ; block withdrawals.
Free spins are awarded when the golden lock remains triple on the reels. No sequence must be observed. Basically, the player receives 10 free spins.
With four identical symbols, 1,000 coins are paid out additionally. With five identical locks, the value increases to 10,000 coins.
Bonus and Jackpot also in the Bonus game, locks must be collected; here, however, rusty;. The Bonus payments correspond to those of the free spins Symbol. The Bonus game is triggered; if the rusty lock is visible at least triple. Coins and gemstones can be used as a reward.
Only when the smoke bomb is found, the Bonus round ends.There are five different precious stone splitter.
Everyone wins; as far as the five parts are composed; the payout of a jackpot. These have a different height. At the top edge of the game, the number of these fragments of gems collected so far is displayed. The long-term motivation can be further enhanced by this Feature.
Online Casinos Where You Can Play Holmes And The Stolen Stones
#
Logo
Casino
Bonus amount
More Yggdrasil Free slots