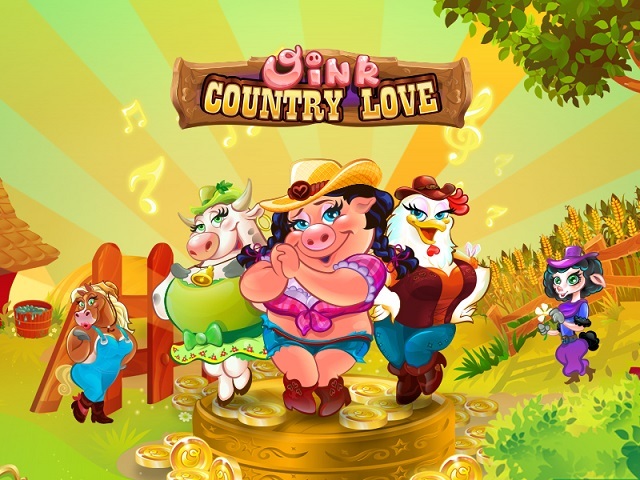 Oink Country Love Overview
At the oink Country Love slot machine, we are spoilt for choice; as the title suggests; in a more rural area. Another hint is hidden in the name of the game. For "Oink" is the sound which is usually attributed to the pigs.
However, it is a Slot game on a Farm; which also other animals find their way to the playing field.
To see a Corn-field; fruit tree and a barn. The values of the symbols can also be seen.Let's start with the single symbol in this slot machine; which is also often described as a Scatter.
It is a stack of Golden cards. These can not only pay out winnings; they can also provide for Freegames. The Joker is divided into a double roll.
The pigs are dressed accordingly in Red and Blue and have a musical Talent. Also combined can pay off the Wilds.Let us now come to the traditional pictures and the aspect of love; as it is also in the title Oink Country Love in UK already torn. For both the pig name; and the chicken; the DOE and the cow are framed in a colored heart.
Here, too, the letters A; K; Q and J; as well as the number 10 take over.
That's how it's played!What is the structure of the playing field in the Casino game?
It is a surface with five rollers. Each roller contains three symbols.
This gives ample space for up to 45 lines. This is the maximum number.
To reach a payout, however, it needs identical images from left to right. Only the highest line profit is paid out at all times.Let's start with the free spins.
Here are the golden cards in charge. Although the Symbol is good for a payout with a number of three to seven, it only needs to appear triple for Freegames. Then five free spins are triggered.
The number increases more than ten free spins for four Matches; up to 20 Free spins when five scatter symbols. With a single spin; thanks to multiplier; even up to 80 free games can be won.Pigs-wild the pig dressed in red and blue behaves identically. They're both jokers. With the exception of the other pig and the Scatter, each Symbol can be replaced.
There is already a payout starting from two matches.However, it is of interest to the pigs-Wilds; that they can also help each other to a profit. The red pig on reel one and the blue pig appears on the second roll; and so it comes to a payout.
Oink Country Love Video Review
More Microgaming Free slots