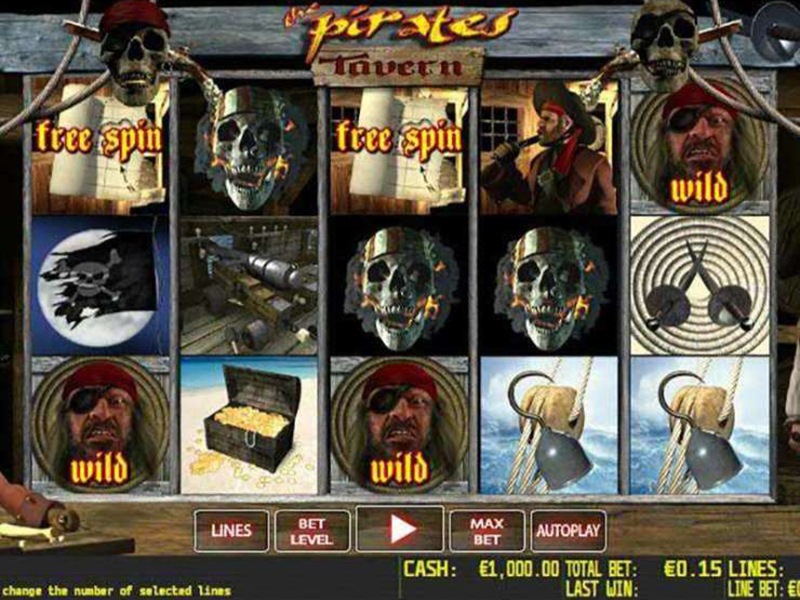 The Pirates Tavern Overview
The life of a pirate is full of adventure and search for new opportunities. Every new place he encounters can be a potential source for gathering loot and riches. So where do all the pirates gather in search of new opportunities and maybe even new mates? That sacred place is the tavern, a hallow sacred ground where one forgets all his animosity and enjoys a good time drinking and chatting. The Pirates Tavern in UK slot by World Match rightly depicts that small world in its own simple way. Even the background of the game seems to be set in a classic tavern setting, an old wooden structure filled with bottles of rum. A drunk asleep on the table pirate, and another drunk pirate dangerously gazing at you. The symbols here include a small cage with a parrot, a treasure box with gold coins, a rum drinking pirate, a one-eyed pirate, a skull, a drinking game of dices, pirate's flag, cannon, a hook and two swords.
Acquaint with Pirates
The Pirates Tavern in UK slot has 5 reels and 15 paylines, and it is produced by World Match. Let`s look on your bets before you make your way for the tavern. The minimum bet is 0.01 credit and the maximum bet is 30 credits. The jackpots amount that a player can win in the game is 2,000 credits. The RTP of the title is 97.01%. There aren't any extra bonus symbols within the game. The standard wild that captures other icons is the one-eyed Pirate, and the free spin scatter is the Treasure map.
Form Alliances and Loot Riches
The Pirates Tavern in UK can be played on different casinos online today. It is also available on the PC and mobile platform for free as well as real money. All a gambler needs to do is make an online account with a casino and a deposit to start playing.