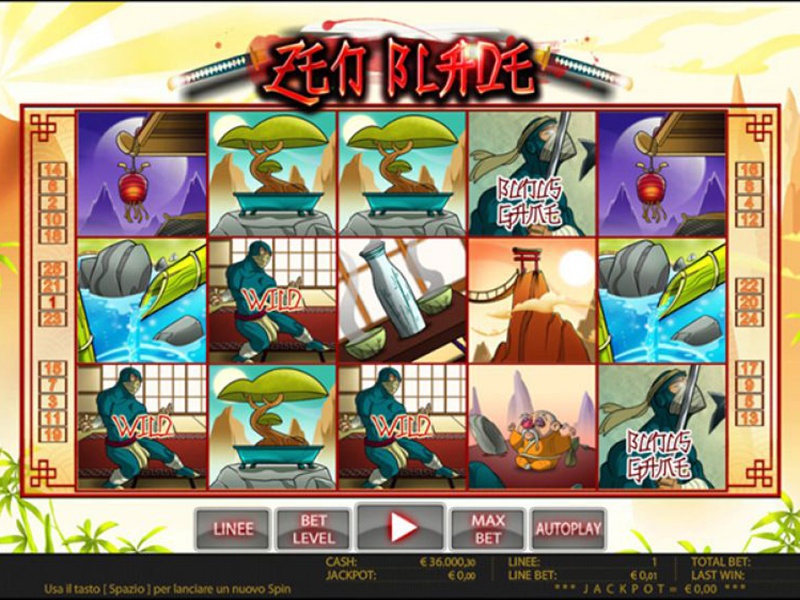 Zen Blade Overview
Folklore has been an integral of human civilisation since ancient times. Perhaps the most intriguing of these folklore stories come from the Far East which is filled with unique tales that also form an integral part of a culture. World Match is acquainting players with the same in Zen Blade in UK, and you will be more than amazed with the offering here. The Zen legend really comes to life with this particular slot. The game has been set in the mountainous region of the far east, complete with bamboo trees spreading across the reels. The symbols in the game include mountain bridges, Chinese lanterns, old ancient temples, bamboo water pipes, bonsai trees, meditating monks, ninjas, etc.
Experience the Zen Life
Zen Blade in UK slot has 5 reels and 25 paylines, and it is based on the oriental theme. Before you join the meditating monks in the game, you need to look up the rules. You can set your bet level between 0.01 credit and 1 credit, additional max bet option – 25 credits. Once you are done making your parlays, you can then hit the Start button which will then set all the reels in action. A player can win a maximum jackpots amount of 7,500 credits in the production. The RTP of the title is between 95-98%. The free spins can be activated by getting three or more of the Zen Master symbol anywhere on the reels while the wild has been shown by the practising samurai. The bonus game has been depicted by the sneaky Ninja symbol – he will bring you to the Fortune wheel mini-game.
Unleash Your Inner Zen Spirit
Gamblers can play Zen Blade in UK on different casinos online at no extra cost – for free. Plus, you can play it for real money. All you need to do is to set up an account on any of the online portals deposit money to start playing.